TECH STACK
EXPERIENCE
Industry Experience
Logistics & Transportation, Business & Productivity, Advertising & Marketing
Product Experience
web application, 24/7 Marketing Campaign Provisioning System, web application for advertising tracking, Online advertisement application
PORTFOLIO HIGHLIGHTS
Apr `19 – Present
4 months
The Insurance Web Platform
Shyft is the first Caribbean's comparison website for insurance quotes. Our task on this project is to create a web platform that simplifies the process of buying any insurance types. The main goal is to have a platform as simple as ABC where users just with a couple of clicks receive the list of insurances that match their needs. The main challenge in this project was to build a dynamic platform where the set of questions and rules could be easily managed without any changes in the code.
Technologies Stack:
CSS
JIRA
MySQL
HTML
Postman
Swagger
Sep `18 – Present
11 months
Transport Management System
TMS for USA Motor Carrier & Trucking Company. The company provides a full array of TL and LTL services in dry, van and refrigerated and flatbed containers. As an All-In-One Software, the TMS is aggregating different blocks: Safety, Dispatch, Maintenance, that's why for application architecture, was applied the micro-services approach. Every service is created on .Net Core 2. and for each such block was developed RESTful services, which can then be merged with a single UI interface in Angular 5
Technologies Stack:
MySQL
QA Management
Test Case Design
MySQL Workbench
Postman
MSSQL
Test Design
Test Planning
Swagger
Industry:
Logistics & Transportation
Works: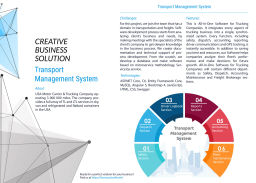 Complex Insurtech Cloud Platform
- Writing detailed Test Plans, Test Strategy, Metrics, Test cases, Test Scripts, and Test reports. - Creating a test automation framework, writing and executing test automation scripts using Selenium WebDriver to support Functional end-to-end, System and Regression testing of the legacy & new features. - Responsible for planning, writing and executing End-to-end function testing, System testing, Regression, compatibility test. - Web services, database, and XML testing
This software automates the process of insurance data extraction and structuring.
Technologies Stack:
JIRA
MySQL
Selenium
Visual Studio
Confluence
Postman
TestRail
Apr `19 – Jul `19
3 months
SaaS utility for Team Process Map Generation
UK
The project aims at creating a tool where team processes are depicted in an easy and interactive way based on a data-driven approach and simplify stakeholder's collaboration on each project regardless of how complex it is.
Technologies Stack:
CSS
JIRA
HTML
Postman
Swagger
May `18 – Jan `19
8 months
Time Tracking Web Application
The following features were developed: time registration (easy and quick time registration using a simple registration form); customer database; project management; CSV export; multiple users; simple Dashboard; subscriptions. The functionalities help users focus on the work and accomplish goals faster and with more efficiency. For reports, it gives a variety of report types and filters, as well as the ability to bookmark reports or export them to CSV, PDF, or Excel.
Technologies Stack:
CSS
JIRA
MySQL
HTML
Swagger
Industry:
Business & Productivity
Product:
web application
Works:
Web SaaS platform
Ukraine Startup
Multifunctional SaaS solution for improvement of conversion on websites. The platform includes Heatmap and Smart Forms. Heatmap helps to increase website usability, define click rates of your website, analyze website design and users' behavior by means of data. Smart forms will help to improve sales, increase the number of subscribers and run promotions and sales. For quick integration with other email services and CRM systems, the platform supports an API connection.
Technologies Stack:
MySQL
JMeter
Requirement Management
Selenium WebDriver
Industry:
Advertising & Marketing
Product:
24/7 Marketing Campaign Provisioning System, web application for advertising tracking, Online advertisement application