EXPERIENCE
Industry Experience
Service & Support, Information services & Technologies, Construction & Real estate
Product Experience
Community platform, Reputation management service, application for construction industry
PORTFOLIO HIGHLIGHTS
CHOO - Managing and Growing Communities Has Never Been Easier
AWS EBS deployment in multi-container solutionstack on production environment, docker images and orchestration in rancher on development environment, jenkins builds.
Already On provides customized digital solutions for communities and associations of Norway.
CHOO is a cloud-based SaaS member management system tailored specifically for community needs. With CHOO, communities have a transparent way of engaging members, be it a health association or a political party: A web portal for future and existing members, designed in a GDPR- compliant manner. Member management module for effortless search, filtering, tracking existing members, and adding and engaging new ones. Integration with various ERP, booking, accounting systems & automated newsletters.
Technologies Stack:
AWS
Jenkins
Docker
Industry:
Service & Support
Product:
Community platform
Works:
Reputation.com, Inc. - #1 Online Reputation Tool
Build and deploy project through Debian packages. Infrastructure as Code: development in ansible, Jenkins builds.
Reputation helps large multi-location businesses improve their public image. Their web portal represents a #1 cloud-based online reputation management platform.
MindK completely redesigned reputation.com website, and overhauled the user experience on all touchpoints: Migration from Drupal to WordPress for easier maintenance. Heat mapping integration that allows our client to discover how much time people spend interacting with different elements of the website. Marketo forms integration (contact us forms and calls to action) for marketing automation efforts. Resources module built from scratch. Migration of the blog from Uberflip to Wordpress.
Technologies Stack:
Debian
Jenkins
Industry:
Information services & Technologies
Product:
Reputation management service
Works:
Feb `17 – Dec `17
10 months
CINX - Powering Today's Construction Industry in the USA
Infrastructure architect and deployment
Harrison Publishing House is a content provider for the construction industry specializing in the plumbing and mechanical segment of the construction world.
MindK built CINX as a complex, feature-rich platform that makes it easy for companies to synchronize internal departments, systems, products, as well as project participants within an all-in-one solution: More than 20 integrations incl. estimating/CAD systems like Autodesk and accounting systems like Intuit Quickbooks. Convenient company profiles where companies link their employees and businesses they do commerce with Private catalogs for companies with material content, over 25 mil items
Technologies Stack:
AWS
Unix
Docker
Industry:
Construction & Real estate
Product:
application for construction industry
Works: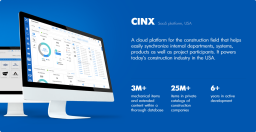 EDUCATION
Ukrainian Academy Of Banking Of The National Bank Of Ukraine
Specialist, Economic Cybernetics