EXPERIENCE
Industry Experience
Business & Productivity, E-Commerce & Retail, Advertising & Marketing, Food & Drink
PORTFOLIO HIGHLIGHTS
Market place for young people.
NDA-protected project. I built the whole architecture and now maintain the app.
Market place for students. Project is under strict NDA.
Technologies Stack:
Ruby on Rails
TypeScript
Bootstrap
Angular 7
Industry:
Business & Productivity, E-Commerce & Retail
Jun `18 – Oct `18
4 months
Deal Central
I developed the functionality as follows: The new design of the main page - design renewal. The new part of DC that is CompUSA site with the same functionality. - Lots of architecture changes, bug fixes, new small parts like banners, modals, and functionality changes.
Deals and coupons aggregator that allows managing deals, stores, coupons and prize drawings. In order to submit a deal, a user needs to paste the link to this product on an e-commerce website. This platform helps users buy products on e-commerce websites at more competitive prices. All the product information is uploaded automatically with an option of manual data entry. The purpose of submitting a deal is to help users buy products on e-commerce websites at more competitive prices.
Technologies Stack:
ES6
REST API
Vue.js
Industry:
E-Commerce & Retail
Works:
Mar `18 – Jun `18
3 months
FAW
Team Leader, Technical Leader, architecture planner (backend and frontend), code reviewer, developer
The №1 cars and trucks dealer in China commissioned us to redesign their websites.
Technologies Stack:
TypeScript
Angular 2x
REST API
Angular Material
Industry:
Advertising & Marketing
Works:
Jan `18 – Mar `18
2 months
Bandit Wines
I built the whole project from scratch all by myself The functionality it possessed: -Register system -Nonstandard design -Social media integrations -Galery with parsed social media by hashtag -The personal gallery of uploaded or posted photos
Promo site for BanditWines manufacturer. The main idea is that user can register on the site, upload the photo where he/she and pack of wine are depicted and try to win the prize. Also, user can add the social media like instagram or twitter and post photos or articles with hashtags which increased his chances for a prize.
Technologies Stack:
jQuery
PostgreSQL
Ruby on Rails
Industry:
Advertising & Marketing, Food & Drink
Works: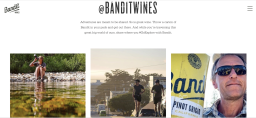 EDUCATION
Don State Technical University
Master in Computer Applications