EXPERIENCE
Industry Experience
Shopping & Loyalty programs, E-Commerce & Retail, Food & Drink, Internet & Telecom, Social Media & Communication, Fashion & Style, Advertising & Marketing
Product Experience
Online auction systems, eCommerce web platform, Web platform for marketing campaigns
PORTFOLIO HIGHLIGHTS
Pecunem
Lead Developer & Technical Advisor
The main goal was to develop the testing tool, use it for indicating performance issues and exposing existing bugs, and then resolve all the found problems.
Pecunem is an online auction platform for selling rare coins and medals by reputable numismatic companies. Pecunem Perf is a web based load testing tool for this platform that allows to simulate navigation through the site and competition in bidding for lots.
Technologies Stack:
D3.js
Grails
jQuery
MongoDB
MySQL
Play Framework
Industry:
Shopping & Loyalty programs
Product:
Online auction systems
Works:
Beer52
Lead Developer & Technical Team Lead
The development process included close, continuous collaboration with stakeholders themselves and their business partners - representatives from the warehouse, advertising companies, voucher distributors. The project development was managed with Scrum methodology - periodic sprint-based updates with a staging period.
An e-commerce platform that is designed to enable people to get a selection of craft beer delivered to their houses on a weekly, fortnightly or monthly basis. Beer52 is one of the most popular craft beer clubs in the United Kingdom with a flexible discount system, internal warehouse integration and a huge number of business partners.
Technologies Stack:
AngularJS
Grails
jQuery
MySQL
Stripe
Bootstrap
Elasticsearch
Industry:
E-Commerce & Retail, Food & Drink
Product:
eCommerce web platform
Works:
HHHello
Lead developer in a team consisting of two developers and a quality assurance engineer. The project was developed with the Scrum methodology - sprint-based releases with a staging period for testing.
A hobby-based dating social network that allows to create profiles using only photos, music and video, share the profile with others, and meet people with similar interests. The main idea is to let people communicate through the shared media content, using personal messages or comments, invite each other to various events right on the site and then meet in real life.
Technologies Stack:
AngularJS
Grails
jQuery
MySQL
Bootstrap
Elasticsearch
REST
Industry:
Internet & Telecom, Social Media & Communication
What's in My Handbag (WIMH)
Full-stack web developer in a team with another developer and a project manager provided by the employer. The development process went in continuous collaboration and communication with the project manager.
An online community and store offering its members exclusive content, samples and beauty products. The e-commerce platform allows to create promotional codes, manage orders and build complex composite products integrated with content, community and reviews. The public part of the site was designed as a hybrid of online magazine and store.
Technologies Stack:
AngularJS
Grails
jQuery
MySQL
Elasticsearch
Industry:
E-Commerce & Retail, Shopping & Loyalty programs, Fashion & Style
Product:
eCommerce web platform
Works: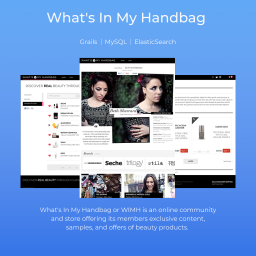 SimpleTexting
The NoSQL MongoDB database is used as a storage. MongoDB instances operate in a replica set mode to satisfy the requirements of scalability and reliability on a storage side. The client site of the platform was developed with Grails, while the server-side was fully written in Java, including a REST API for programmatic access to the platform.
An SMS marketing platform that enables companies and organizations to engage their customers, clients, and community via text messaging. The platform was built to meet high scalability and high-reliability requirements.
Technologies Stack:
Grails
Java
MongoDB
Industry:
Advertising & Marketing
Product:
Web platform for marketing campaigns
Works:
EDUCATION
Dnipro National University
MA in Computer Engineering