EXPERIENCE
Industry Experience
Social Media & Communication, E-Commerce & Retail, News & Media
Product Experience
Cross-platform mobile app, E-commerce development of online stores for delivery service, News plaftorm
PORTFOLIO HIGHLIGHTS
Nov `18 – Jan `19
2 months
Troox
Our work mainly involved: - updating the dependencies of the components used - error handling when interacting with the server - downloading message content (video, audio, photos) from the server - correcting errors on Android and iOS when creating the content for a message (for example, recording audio or shooting video) - launching an external player to watch videos on Android - changing the page layout.
Technologies Stack:
JavaScript
React.js
React Native
Redux
Industry:
Social Media & Communication
Product:
Cross-platform mobile app
Jun `18 – Sep `18
3 months
Bahama Joe's
http://www.bahamajoes.com
Our team mostly worked with the back-end of the Bahama Joe's system, for which the key technologies were Node.js and MongoDB. The features we focused on were the items search, eBay integration and shopping cart integration. We also integrated shipping calculations and payment with Authorize.net.
Technologies Stack:
Node.js
Sails.js
Socket.IO
Bootstrap
Industry:
E-Commerce & Retail
Product:
E-commerce development of online stores for delivery service
Sep `17 – Mar `18
6 months
Press Feed
https://pressfeed.ru/
Pressfeed helps reporters to quickly receive material for articles. They place a request for experts to respond to, then get an invoice for the material. The front-end part was implemented using the jQuery library. It was rebuilt by our team using React + Redux. For CSS styles, we used the SCSS preprocessor. We've implemented chat on the site using Socket.io. In the process of doing the work, React Select and DraftJS libraries were customized, converting to BBCode from HTML, and vice versa.
Technologies Stack:
jQuery
React.js
Redux
SCSS
Industry:
News & Media
Product:
News plaftorm
Works: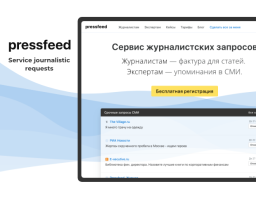 EDUCATION
Southern Federal University, Taganrog, Russia
Applied Mathematics & Computer Science, Bachelor