EXPERIENCE
Industry Experience
Booking & Rent, Social Media & Communication, Travel & Tourism
Product Experience
real estate portal, Social network for travelers, webservice for travel company
PORTFOLIO HIGHLIGHTS
Jun `18 – Sep `18
3 months
TOP-TIER LEADS
http://portal.top-tierleads.com/
Top Tier Leads is a service for realtors, with which you can manage a mailing to customers. The service allows customers to get information about real estate: interesting offers, prices, etc. and realtors get information about their customers' plans to buy or sell a house. The project allows a user to select realty filtering the results by districts. Besides regular users, there are admins who are responsible for the content and its editing through the admin panel.
Technologies Stack:
JavaScript
MySQL
PHP
Industry:
Booking & Rent
Product:
real estate portal
Works: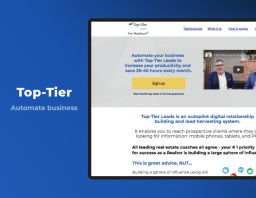 Oct `18 – Jan `18
9 months
Visualogical
visualogical.dunice.net
Visualogical is an interactive visual experiment presented as a "memetic evolution game". We were engaged in the creation of all pages, the generation of final images with color combinations. Added soundtrack game. Create Google Spreadsheet on a given topic and record all entered words by users in this table. Generation of the final image with logos. Algorithms for rendering images on the canvas (frontend). Proxy data (server).
Technologies Stack:
JavaScript
React.js
Jun `19 – Sep `19
3 months
Adventure Aide
https://adventureaide.com
At first, we used PHP 5.5 and the Slim 2 framework. Later, we migrated to PHP 7.2 and the Yii2 framework. We created several web applications that use different stacks of technologies, from standard HTML 5 / CSS 3 (SCSS) / Javascript to a modern Vue.js framework that provides the best user experience. We improved the technology stack of the project by processing scripts and styles via Node.js/npm/Gulp and using SCSS technology.
Technologies Stack:
MySQL
PHP
Yii 2
Industry:
Social Media & Communication, Travel & Tourism
Product:
Social network for travelers
Works:
Sun sea escapes
http://sunseaescapes.com
Sun Sea Escapes is a Tour Operator specializing in All-Inclusive leisure holidays to the Dominican Republic, Mexico, Jamaica, and Bahamas. On this project, we created the My account page by using the best practice of WordPress, CSS3, and HTML5. Implemented small improvements to the template and functionality. This is the most important page for login and Registration as for a client, as for the agents.
Technologies Stack:
JavaScript
PHP
WordPress
Industry:
Travel & Tourism
Product:
webservice for travel company
EDUCATION
Southern Federal University, Taganrog, Russia
Applied Mathematics & Computer Science, Bachelor