EXPERIENCE
Industry Experience
Construction & Real estate, Service & Support, Education & Science
Product Experience
SaaS system, Community platform, application for construction industry, Web portals
PORTFOLIO HIGHLIGHTS
Mar `18 – Dec `18
9 months
Systemhus - SaaS Solution
UPP (unified partner portals) is a user-friendly platform for fast and easy websites creation. The Platform is designed to allow the following: - to create numerous websites with minimal time; - to share knowledge and services between all partner companies and end-users; - to include the possibility to manage the structure and content of the websites. Development of Administrative Panel (API and front-end).
Systemhus is a Norwegian construction company with 50+ years of history and over 50,000 houses built. Innovation, efficiency and quality are the 3 key points that distinguish their company among its competitors on the Nordic market.
Systemhus has 100+ partners that sell and build houses all around Norway. When a house is built, the buyers can customize its interior by selecting materials and equipment. Systemhus and its partners needed a digital solution for managing catalogs of materials, buyers' selections and orders.
Technologies Stack:
PostgreSQL
React.js
Industry:
Construction & Real estate
Product:
SaaS system
Works:
Jun `17 – Dec `17
6 months
CHOO - SaaS Solution
A SaaS CRM (community relationship management) that handles members, recurring memberships, invoices and payments for over 200k business users. Implementation of GDPR features.
Already On provides customised digital solutions for communities and associations of Norway.
CHOO is a cloud-based SaaS member management system tailored specifically for community needs. With CHOO, communities have a transparent way of engaging members, be it a health association or a political party: A web portal for future and existing members, designed in a GDPR- compliant manner. Member management module for effortless search, filtering, tracking existing members, and adding and engaging new ones.
Technologies Stack:
Ember.js
PHP
PostgreSQL
Sails.js
Elasticsearch
Industry:
Service & Support
Product:
Community platform
Works:
Mar `14 – Sep `17
3 years
CINX - SaaS Solution
3,5 years of development of functional parts (front-end and back-end), integrated into ERP system: UI features, reports, dynamic grids with filtering, ordering, inline-editing, statistics, etc with functional API modules for system reports. Key Responsibilities: - Features development. - Refactoring. - Data Migration. - Unit Tests. - Some Leading functions. - Business analysis. - Solution managing. - Communication with the client.
Harrison Publishing House is s content provider for the construction industry specialising in the plumbing and mechanical segment of the construction world.
MindK built CINX as a complex, feature-rich platform, that makes it easy for companies to synchronise internal departments, systems, products as well as project participants within an all-in-onesolution: More than 20 integrations including estimating/CAD systems like Autodesk and accounting systems like Intuit Quickbooks. Convenient company profiles where companies link their employees and businesses they do commerce with. The ability to link to other business systems and transfer data.
Technologies Stack:
CodeIgniter
Ember.js
Joomla!
MongoDB
MySQL
Elasticsearch
Laravel Framework
Mootools
RabbitMQ
Solr
Industry:
Construction & Real estate
Product:
application for construction industry
Works: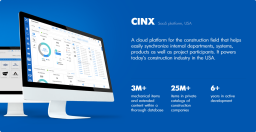 Jun `14 – Nov `16
2 years
Guardyoureyes.com - Web Portal
Contributing to strategic decisions concerning the future planning of the products and system core refactoring. Developing 90 Days Chart component; licence management component; donation-reporting component; Authorize.Net, PayPal payment plugins for donations. CometChat customization.
GYE.Corp, - the #1 resource for dealing with addiction to inappropriate materials on the Internet and related behaviors in Jewish communities.
Contributing to strategic decisions concerning the future planning of the products, System core refactoring.
Technologies Stack:
Joomla!
jQuery
MySQL
Mootools
Industry:
Education & Science
Product:
Web portals
Works:
EDUCATION
Sumy State University
Master of Applied Mathematics