EXPERIENCE
Industry Experience
E-Commerce & Retail, Banking & Finance, Electronics & Equipment
PORTFOLIO HIGHLIGHTS
Aptdeco - E-commerce Preowned Furniture Marketplace
Aptdeco is one of the biggest and most complex projects we delivered, it was developed completely from scratch and extended with a lot of custom features to automate site and order management along with furniture delivery.
Technologies Stack:
CSS
JavaScript
MySQL
PHP
HTML
Industry:
E-Commerce & Retail
Works:
Water Management Software
This project was all about technology making life easier and saving energy resources. It may be hard to believe but a few skilled engineers were able to save millions of gallons of water worldwide early by creating this IoT device. This is the result of the Hydrawise project when customer came to us with the idea to create a solution for garden irrigation control that would save up to 50% of the water used.
Technologies Stack:
CSS
JavaScript
PHP
HTML
Works:
Smart home IoT solution provider
The solution consists of hardware items installed on heating devices and windows which are connected through a wireless network to software and cloud back-ends manage remotely. Through the control panel users can see current temperatures, reports, notification messages and configure heating parameters. There is a free mobile app (iOS and Android) that goes with the software that allows the user to take control of home heating from any place of the world.
Technologies Stack:
CSS
JavaScript
PHP
HTML
Works:
Advanon - Factoring solution for SMEs
This project transformed the entire industry of factoring in Germany and Switzerland. The biggest change we brought to the market is an ability for SMEs to get invoice financing within just 1-2 days while traditional factoring takes 4-8 weeks in average; company can also select which invoice to sell and not required to sell all its invoices; no risk of client relationships.
Technologies Stack:
CSS
JavaScript
PHP
HTML
Industry:
Banking & Finance
Works: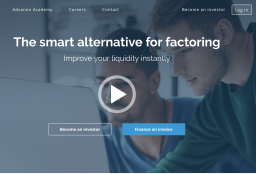 IoT Data driven exercise complex
IoT Data driven exercise complex
Technologies Stack:
CSS
JavaScript
HTML
Industry:
Electronics & Equipment