TECH STACK
EXPERIENCE
Industry Experience
Blockchain & Cryptocurrency, Healthcare & Medicine
Product Experience
ICO, Medical data exchange system, Cryptocurrency, Blockchain-based platform, A crypto-currency exchange
PORTFOLIO HIGHLIGHTS
Metabase
Team Lead, Architect, Solidity developer
- Project architecture - Smart Contracts development - Back-end development - Front-end development - Team management -
Intrepid Ventures
A High Performance Blockchain and Smart Op-Codes Platform for Next Generation Businesses. The NordWhale team designed and implemented the ICO system including: - Checkout page - Registration with passing huge KYC check using Onfido and VerifyInvestor services - Investor's dashboard - Smart Contract with ICO terms - ERC20 token contract with token vesting for investors on different stages - Purchasing tokens using USD (Credit card) and ETH - Payment with all crypto-currencies
Technologies Stack:
Bitcoin
Node.js
React.js
Stripe SDK
Ethereum
Solidity
Web3.js
Truffle
Microservices
Industry:
Blockchain & Cryptocurrency
Product:
ICO
Works:
BreastWeCan!
- Build project architecture - Setup and configure private IPFS - Back-end development - Front-end development
BWC is a system to improve catching breast cancer using AI. BreastWeCan is a distributed apps for the future of medical research. It's a call to action to improve mammography screening by empowering patients to share their imaging and electronic health records and retain control over it. NordWhale team created an infrastructure and configured the private IPFS system for secure storing all the collected mammograms for future launching studies to train AI algorithms.
Technologies Stack:
Node.js
React.js
Golang
Blockchain
Industry:
Healthcare & Medicine, Blockchain & Cryptocurrency
Product:
Medical data exchange system, Cryptocurrency, Blockchain-based platform
Works: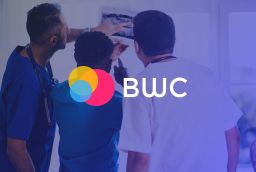 Exchanges Aggregator
Team lead / Back-end developer
- Build serverless architecture - Implement back-end using AWS Lambda, API Gateway, Cognito - Lead the team
A serverless solution to aggregate data, balances and transactions from cryptocurrency exchanges, payment processing services worldwide and different blockchains, like Ethereum, Bitcoin, Litecoin, etc. This application was build using AWS Cognito for user management, AWS API Gateway for creating API and triggering Lambda functions and DynamoDB for storing all the data.
Technologies Stack:
AWS
Go
Microservices
Industry:
Blockchain & Cryptocurrency
Product:
A crypto-currency exchange, Cryptocurrency, Blockchain-based platform
Works:
EDUCATION
Chernihiv State Technological University
Industrial Electronics