EXPERIENCE
Industry Experience
Environmental Activism & Social Organisations
Product Experience
SaaS web platforms
PORTFOLIO HIGHLIGHTS
Apr `15 – Jul `18
3 years
Under NDA
Web and mobile functional testing as well as test automation scope development for regression purposes. Review design requirements and specification. Expert use cases, test cases, bug reports creation.
Perform functional testing, UI functional autotests, performance testing, user story, desktop application testing
Technologies Stack:
JavaScript
CEMAsys - SaaS Solution (sustainability, environment and risk management)
CEMAsys.com AS is a leading CSR (corporate social responsibility) consulting company, which provides energy and carbon management services for the Nordic region.
MindK had to make it possible for companies to easily manage and report all the sustainability and environmental data within one SaaS web platform. We've built a modular solution, with a neat, organised experience that is simple to use and compelling to an incredibly diverse user-base of enterprises. 250+ midsize and large companies like H&M, Orkla, Konika Minolta and DNB have chosen CEMAsys as their sustainability management tool.
Technologies Stack:
Functional testing
Industry:
Environmental Activism & Social Organisations
Product:
SaaS web platforms
Works: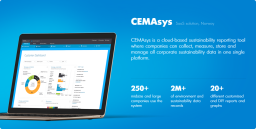 EDUCATION
Sumy State University
Computerized management systems and automation. Computer systems engineer