EXPERIENCE
Industry Experience
Construction & Real estate, Environmental Activism & Social Organisations, Service & Support
Product Experience
SaaS system, SaaS web platforms, Community platform
PORTFOLIO HIGHLIGHTS
Systemhus - SaaS Solution
Development
Systemhus is a Norwegian construction company with 50+ years of history and over 50,000 houses built. Innovation, efficiency and quality are the 3 key points that distinguish their company among its competitors on the Nordic market.
Systemhus has 100+ partners that sell and build houses all around Norway. When a house is built, the buyers can customize its interior by selecting materials and equipment. Systemhus and its partners needed a digital solution for managing catalogs of materials, buyers' selections and orders.
Technologies Stack:
MySQL
Node.js
React.js
Industry:
Construction & Real estate
Product:
SaaS system
Works:
Jun `15 – Present
4 years
CEMAsys - SaaS Solution (sustainability, environment and risk management)
Development, Code review
CEMAsys.com AS is a leading CSR (corporate social responsibility) consulting company, which provides energy and carbon management services for the Nordic region.
MindK had to make it possible for companies to easily manage and report all the sustainability and environmental data within one SaaS web platform. We've built a modular solution, with a neat, organised experience that is simple to use and compelling to an incredibly diverse user-base of enterprises. 250+ midsize and large companies like H&M, Orkla, Konika Minolta and DNB have chosen CEMAsys as their sustainability management tool.
Technologies Stack:
AngularJS
Ember.js
MongoDB
MySQL
Node.js
PostgreSQL
Symfony
Laravel Framework
Industry:
Environmental Activism & Social Organisations
Product:
SaaS web platforms
Works: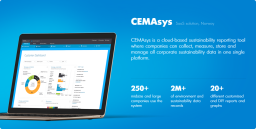 Jan `18 – Oct `18
9 months
CHOO - SaaS Solution
Development
Already On provides customised digital solutions for communities and associations of Norway.
CHOO is a cloud-based SaaS member management system tailored specifically for community needs. With CHOO, communities have a transparent way of engaging members, be it a health association or a political party: A web portal for future and existing members, designed in a GDPR- compliant manner. Member management module for effortless search, filtering, tracking existing members, and adding and engaging new ones.
Technologies Stack:
MySQL
Industry:
Service & Support
Product:
Community platform
Works:
EDUCATION
Sumy State University
Magister. Informatics