EXPERIENCE
Industry Experience
Banking & Finance, Blockchain & Cryptocurrency
Product Experience
Blockchain-based platform, A crypto-currency exchange, Middleware for integration of wallet services and consumers, Cryptocurrency
PORTFOLIO HIGHLIGHTS
Securitize
Securitize is proud to provide industry-leading tools and services for issuers of, and investors in, digital securities. We are dedicated to providing our customers with services that will ensure their funding and capital management success.
Technologies Stack:
C++
Industry:
Banking & Finance
Product:
Blockchain-based platform
Works: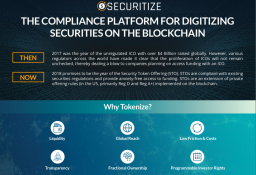 Jexchanger
Simple cryptocurrency exchanger. Focused on Israel and European market gives abality to fast and easy way to exhcange USD from your credit cards to Ethereum, Litecoin, Dash, Bitcoin, Bitcoin Cash.
Technologies Stack:
Ethereum
Industry:
Blockchain & Cryptocurrency
Product:
A crypto-currency exchange
Works:
CoinDrive
Tech lead
CoinDrive - simple and secure way of managing Bitcoin shared funds. The payment system allows people to create and easily manage shared wallets. CoinDriveBot provides flexible management of shared funds (BTC), using SHARED wallet directly in Telegram. When a new person joins the conversation, it can easily set up daily limits, transaction limits, administration permissions, etc.
Technologies Stack:
Ethereum
Industry:
Blockchain & Cryptocurrency
Product:
Middleware for integration of wallet services and consumers, Cryptocurrency
Works: