EXPERIENCE
Industry Experience
Business & Productivity, Booking & Rent, Logistics & Transportation, Travel & Tourism
Product Experience
web application, Booking platform, Online travel booking service
PORTFOLIO HIGHLIGHTS
Oct `18 – Present
6 months
Realtime Analytics Module for Retail Management System
Latvia
The goal of the WEB system is to provide realtime information about purchases and visitors for the huge supermarket network. System can: * Create reports about number of visitors * Calculate amount of corrections, annulations and return in receipts * Monitor fulness of supermarket shelves * Provide audit information
Technologies Stack:
ASP.NET
C#
HTML5
JavaScript
jQuery
MongoDB
.NET
Elasticsearch
Entity Framework
.NET Core
Time Tracking Web Application
The following features were developed: time registration (easy and quickly time registration using a simple registration form); customer database; project management; CSV export; multiple users; simple Dashboard; subscriptions. The functionalities help users focus on the work and accomplish goals faster and with more efficiency. For reports, it gives a variety of report types and filters, as well as the ability to bookmark reports or export them to CSV, PDF, or Excel.
Technologies Stack:
MySQL
PHP
Yii 2
Industry:
Business & Productivity
Product:
web application
Works:
Rental Platform
The responsibility was to create Web platform on Yii2 Framework using MySQL and JQuery
The approach was to build the largest and innovative rental service which would be using millions of Bangladesh users and it should be working proper and fast. The web platform was created on Yii2 Framework using MySQL and JQuery. The system front-end framework was built on Bootstrap 4 and Javascript. Users can easily rent or take from Bdrent, with a protection the interests of both parties.
Technologies Stack:
MySQL
PHP
Yii 2
Industry:
Booking & Rent
Product:
Booking platform
Works: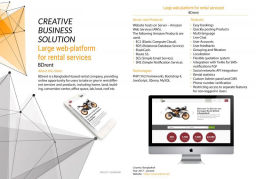 Oct `17 – May `18
7 months
Platform for Online Bus Ticket Booking Service
Developed the web platform from scratch with options to buy tickets for the bus by few easy steps - select dates, start/end location, add personal details. Customers can book One-way & Return tickets. Admins are free to set discounts for round trips. Using an interactive seat map clients can select the seats they like by simply clicking on the icons.
Technologies Stack:
API
MySQL
PHP
Yii 2
Industry:
Logistics & Transportation, Travel & Tourism
Product:
Online travel booking service, Booking platform
Works:
EDUCATION
Ivan Franko National University of Lviv
Bachelor`s degree in Radiophysics and Computer Technologies
Ivan Franko National University of Lviv
Master`s degree in Optoelectronics and Information Technologies