EXPERIENCE
Industry Experience
Photo & Video, Books & Catalogs, Social Media & Communication, Travel & Tourism
Product Experience
social network, Booking app
PORTFOLIO HIGHLIGHTS
Mar `17 – Jan `18
10 months
Snapbook
Developing the Android user app for the Snapbook is an application, specialized in portraying user's favorite photographs on a wide range of personal objects, prints and photobooks.
Create photo albums, custom prints and other unique gifts with Snapbook, the ultimate tool to turn your favorite pictures into amazing, personal gifts. Upload your pictures, create beautiful lay-flat photo albums from your iPhone and make customized gifts and home decor, exclusively through the Scrapbook app.
Technologies Stack:
Facebook API
Instagram API
Zendesk
Image Editing
Android Testing API
Industry:
Photo & Video, Books & Catalogs
erodr
App developer for a college student-focused, online social networking service.
A social networking app for American college community.
Technologies Stack:
Android SDK
Industry:
Social Media & Communication
Product:
social network
Works: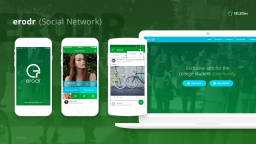 May `15 – Aug `15
3 months
TableFever
Developed application that provides the ability to search for restaurants, view restaurant location on the map, view restaurant details and ability to book a table in a selected restaurant.
The app which helps to discover culinary experiences in your neighborhood and check out the restaurants in Belgium.
Technologies Stack:
WebRTC
WebSockets
Android Testing API
Industry:
Travel & Tourism
Product:
Booking app
EDUCATION
Donetsk National University
MA in Computer Software Engineering