EXPERIENCE
Industry Experience
E-Commerce & Retail, Fashion & Style
Product Experience
eCommerce website templates, Back-end developing for online shopping application. Quality assurance of web application for advertising tracking., Application for data collection and integration
PORTFOLIO HIGHLIGHTS
E-Commerce - watches store - ZinvoWatches
I've worked on this project as a Designer. This is an e-commerce project that requires research of customer needs. I worked on best products presentation. I`ve made home page, product page, collection page and checkout page for ZINVO company which is modern watch seller with unique, yet easy to recognize design, which allows its owner to show they belong to the dynamic and luxurious lifestyle, to stand out, attract attention and showcase their taste.
Technologies Stack:
HTML5
Shopify
CSS3
Sass
Shopify Templates
Industry:
E-Commerce & Retail, Fashion & Style
Product:
eCommerce website templates, Back-end developing for online shopping application. Quality assurance of web application for advertising tracking., Application for data collection and integration
Works:
E-Commerce - smoking products store - LikeBongs
As far as user visits a site, a pop-up appears. It requests a confirmation of user's coming of age. We've installed all the apps for product reviews, facebook integration, set of foods "Cheaper by the Dozen", filters, banners administration and promotion code creation. Our team has also developed the equivalents of paid apps to create categories "you may also like" and " last visited products" on a site. They let the client not to spend his/her budget on paid applications.
Technologies Stack:
HTML5
Shopify
CSS3
Sass
Shopify Templates
Industry:
E-Commerce & Retail
Product:
eCommerce website templates
Works:
E-Commerce - clothes store - hidayainternational
I`ve made this online shop for Hidaya company also known as a Malaysian Abaya Brand, selling abayas for women. Established in 2014, Malaysian homegrown brand bloomed in the metropolis of Kuala Lumpur and has since expanded to the Middle East and Europe. Today, Hidaya reigns as one of a leading brands in modest fashion label in the country and aims to continuously be a game changer in the industry
Technologies Stack:
HTML5
Shopify
CSS3
Sass
Shopify Templates
Industry:
E-Commerce & Retail, Fashion & Style
Product:
eCommerce website templates
Works: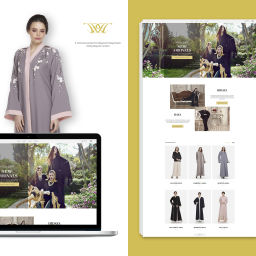 EDUCATION
Pryazovskyi State Technical University
Master of Education (M.Ed.)
Beetroot Academy
Front-end development