TECH STACK
EXPERIENCE
Industry Experience
Travel & Tourism, E-Commerce & Retail, Fashion & Style
Product Experience
Online travel booking service, eCommerce website templates
PORTFOLIO HIGHLIGHTS
Service - tour operator - Calypso
The aims of the project are selection and online booking of tours, excursions at convenient dates with the possibility of filtering by a large number of options. The full-scale website was developed, including design, front-end web development, technical part, integration of website with API.
Technologies Stack:
HTML5
JavaScript
Shopify
CSS3
Sass
Shopify Templates
Industry:
Travel & Tourism
Product:
Online travel booking service
Works:
E-Commerce - sunglasses store - Solsken
We started common practice of marketing research for every project. So the aim was to make a redesign existing online store. But at start we recognized what really Solsken's target audience need. As a result design become simple and light vibrant and dynamic. We developed conversion main page and product page. Plus, stylized other internal pages to make common view according to positioning rules.
Technologies Stack:
CSS
HTML5
JavaScript
Shopify
Sass
Shopify Templates
Industry:
E-Commerce & Retail, Fashion & Style
Product:
eCommerce website templates
Works:
E-Commerce - clothes store - hidayainternational
I`ve made this online shop for Hidaya company also known as a Malaysian Abaya Brand, selling abayas for women. Established in 2014, Malaysian homegrown brand bloomed in the metropolis of Kuala Lumpur and has since expanded to the Middle East and Europe. Today, Hidaya reigns as one of a leading brands in modest fashion label in the country and aims to continuously be a game changer in the industry
Technologies Stack:
CSS
HTML5
JavaScript
Shopify
Sass
Shopify Templates
Industry:
E-Commerce & Retail, Fashion & Style
Product:
eCommerce website templates
Works: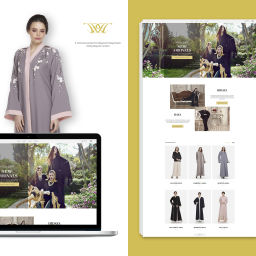 EDUCATION
Pryazovskyi State Technical University
Bachelor of Engineering (B.Eng.)