EXPERIENCE
Industry Experience
Arts & Culture, Social Media & Communication
Product Experience
mobile social networking tool, social networking website, social network
PORTFOLIO HIGHLIGHTS
May `17 – Mar `18
10 months
ArtStation
ArtStation is a creative platform for artists who work in various areas of visual arts. It provides them with three main networking opportunities.
Technologies Stack:
Android SDK
API
Glide
Retrofit
RxJava
Industry:
Arts & Culture
Product:
mobile social networking tool, social networking website
Works:
erodr
A social networking app for American college community.
Technologies Stack:
Android SDK
API
Retrofit
RxJava
Industry:
Social Media & Communication
Product:
social network
Works: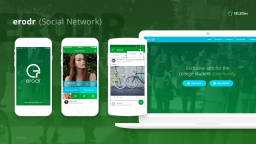 EDUCATION
Donetsk National University
MA in Computer Science