EXPERIENCE
Industry Experience
Banking & Finance, Kids & Childcare
Product Experience
Blockchain-based platform, Android app for parents to control their babies
PORTFOLIO HIGHLIGHTS
Sep `18 – Present
3 months
Hacera
HACERA uses Zero-Knowledge proofs to solve inherent problems relating to privacy, data confidentiality and transaction unlinkability. HACERA allows blockchain participants to transact freely without worrying about others being able to "profile" them, and see all of their transaction history, prices, amounts or even counterparties.
Technologies Stack:
AngularJS
Product:
Blockchain-based platform
Works:
Sep `18 – Present
3 months
Securitize
Securitize is proud to provide industry-leading tools and services for issuers of, and investors in, digital securities. We are dedicated to providing our customers with services that will ensure their funding and capital management success.
Technologies Stack:
Angular 4
Industry:
Banking & Finance
Product:
Blockchain-based platform
Works: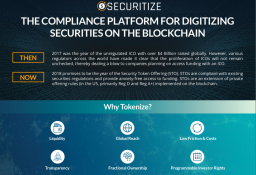 Apr `17 – Jun `17
2 months
SensoryTreat
SensoryTreat makes sensory home programs fun and easy. This is a carryover tool, that provides therapists and caregivers possibilities to make home program activities a part of child's daily life. • Family gets tools and support to increase motivation and collaboration. • Therapists gain visibility, remote influence and time to amplify this influence. • Clinics gain benefits from both increased productivity and client's satisfaction.
Technologies Stack:
PHP Storm
WebStorm
Industry:
Kids & Childcare
Product:
Android app for parents to control their babies
Works: