EXPERIENCE
Industry Experience
Banking & Finance, Blockchain & Cryptocurrency, Social Media & Communication
Product Experience
Blockchain-based platform, ICO Tokens, ICO, Middleware for integration of wallet services and consumers, Cryptocurrency, Social network app for dating, Dating & Relationships, Dating App, Dating service
PORTFOLIO HIGHLIGHTS
Oct `17 – Present
2 years
Securitize
Securitize is proud to provide industry-leading tools and services for issuers of, and investors in, digital securities. We are dedicated to providing our customers with services that will ensure their funding and capital management success.
Technologies Stack:
C#
Industry:
Banking & Finance
Product:
Blockchain-based platform
Works: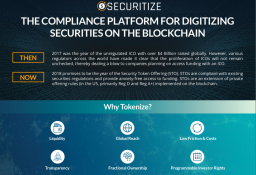 Jan `16 – Aug `18
2 years
Zafeplace
Zafeplece is platform which provides access to the Ethereum solutions. Zafeplece included user controlled Ethereum wallet and solution for easy integration of third party services. Integrated KYC system and blockchain based Identity mechanism are helping to obtain top level security.
Technologies Stack:
C#
Product:
ICO Tokens, ICO
Works:
Aug `17 – Oct `17
2 months
CoinDrive
CoinDrive - simple and secure way of managing Bitcoin shared funds. The payment system allows people to create and easily manage shared wallets. CoinDriveBot provides flexible management of shared funds (BTC), using SHARED wallet directly in Telegram. When a new person joins the conversation, it can easily set up daily limits, transaction limits, administration permissions, etc.
Technologies Stack:
Eclipse
Visual Studio
Industry:
Blockchain & Cryptocurrency
Product:
Middleware for integration of wallet services and consumers, Cryptocurrency
Works:
Dec `16 – Aug `17
8 months
LoveMe
Loveme - is the biggest dating website for people who are tired of loneliness. Loveme wants to make people happy. The compatibility-based online dating service is specifically for people who want to form a lasting, honest and sincere relationship. Every day this website takes care of all ages single persons in Israel, creates new couples and friends. And it goes international! Loveme is available on all devices, both desktop and mobile versions (iOS, Android).
Technologies Stack:
Eclipse
Visual Studio
Industry:
Social Media & Communication
Product:
Social network app for dating, Dating & Relationships, Dating App, Dating service